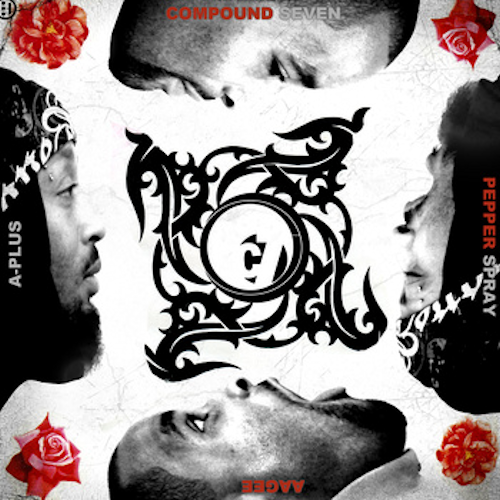 From A-Plus:
Hip Hop fans who also enjoy the sounds of alternative rock group The Red Hot Chili Peppers will rejoice when they hear Pepper Spray, an EP release from A-Plus of Souls of Mischief/Hieroglyphics and production team Compound 7. The 7-song EP is a reimagining of some of the Red Hot Chili Peppers' most epic tracks as a backdrop for MCs A-Plus, Del and Knobody. The brainchild of Compound 7 member AAGEE (who suggested an EP release with production based entirely off the Chili Peppers), PEPPER SPRAY is a specialty project, according to A-Plus.

"The whole purpose is a Hip Hop tribute to the Red Hot Chili Peppers, inspired by their music and dedicated to their work. The cover is going to be a spin-off of one of their most popular covers – it's a theme all throughout,"
he explains. "The songs are all topic-oriented, sonically as well as lyrically. It's a conceptual EP, certainly. I don't want people to look at this like it's MY new album, it's something I worked on but it's obviously in a different lane," emphasizes A-Plus. "I'm stepping outside of my paradigm to do something new, different and artistic."

Standout cuts on Pepper Spray include Californication, which features Del. A-Plus explains the significance of Californication – "The way the song is set up, you have to hear it, its two verses then the beat changes, then the verses again, like a refrain. I instantly thought of Del after we finalized the beat. The subculture of California is snaky but its home, that's what the Chili Peppers' song is about so I just rapped about what California is for me in the same way - the positive and negative."

Memories and experiences of tours & being on the road are a recurring theme of the Red Hot Chili Peppers' music as well as on Pepper Spray. "Road Trippin' is a song about leaving to go on the road, and what it entails. Just being out from an artist's perspective and how it's a very hard but amazing job," A-Plus reasons. "By the Way is another song about being on the road, but more of a specific story, of our tour bus getting pulled over, smelling like weed, me getting arrested, it's a story – they're both tour-story oriented."

Pepper Spray, in drawing from one of the greatest alt-rock bands of this century and turning their sound into a Hip Hop format will undoubtedly draw new fans toward both genres of music and beyond. One thing is sure; Compound 7's Pepper Spray is like nothing you've heard before.
DOWNLOAD Pepper Spray