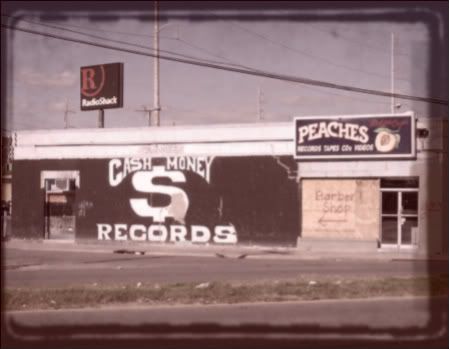 Peaches Record Shop, New Orleans, circa 2005
Bounce music is street-level hip-hop party music straight from New Orleans, with a unique and awesome energy that draws from the Mardi Gras Indian and second-line rhythms that still pump throughout the city. For the first time, the huge and influential South By Southwest music conference is hosting an official showcase of classic bounce, in March 2010.
Artists on the bill include:
Partners-N-Crime
DJ Jubilee
Katey Red
Big Freedia
Vockah Redu
Magnolia Shorty
Ms Tee
Bounce music has steadily influenced hip-hop in America since its inception in the late 80's, yet - as has been the case with dozens of influential New Orleans musicians - the artists who created it have barely reaped the benefits. Exposure at SXSW could jump-start the careers of these talented and deserving performers... and bring the spotlight back to a New Orleans music scene still struggling to find its footing after the floods of 2005.
SXSW is a networking showcase and doesn't pay for artist travel or lodging. We need help getting our artists to Austin to bring New Orleans bounce to the world.
Head to
Kickstarter
for more donation details.
Seen and heard at
Kickstarter